Tule meille kesätöihin
Kesätöissä Danskella luot taloudellista mielenrauhaa asiakkaille innostuneiden tiimien kanssa.
Vuoden 2022 kesätyöhaku on päättynyt
Kesätöissä Danskella luot taloudellista mielenrauhaa asiakkaille innostuneiden tiimien kanssa
Yksi tärkeimmistä arvoistamme on yhteistyön merkitys, ja se korostuu kaikessa tekemisessä. Tämä näkyy hyvänä yhteishenkenä ja toisten kunnioittamisena työssä. Haluamme, että kaikki kesätyöntekijöistä konkareihin arvostavat toisiaan ja työskentelevät yhdessä samojen päämäärien eteen. Näin saavutamme tavoitteemme olla luotetuin taloudellinen kumppani asiakkaillemme.

Kesätöissä pääset tutustumaan siihen, miten kaikki käytännössä toimii ja miltä pankkimaailma näyttää. Palkkaamme suurimman osan kesätyöntekijöistä asiakaspalvelutöihin eri liiketoiminta-alueille pankissa. Asiakasneuvojamme työskentelevät pääasiallisesti pääkonttorilla Pasilassa, tai paikallisissa konttoreissamme.

Asiakaspalvelu tarkoittaa käytännössä asiakkaiden neuvontaa ja heihin yhteydessä olemista eri kanavien kautta. Käytämme viestinnässä puhelinta, chat-palveluita, sosiaalisen median kanavia ja Internet-sivujamme. Yleisimmät asiakaspalveluun liittyvät kysymykset ja tehtävät liittyvät päivittäisiin pankkiasioihin, kuten lainoihin, sijoituksiin, kortteihin ja verkkopankkiin.

Emme oleta, että kesätyöntekijämme osaavat kaikkea, vaan työssä on tarkoitus oppia. Toivomme kuitenkin, että työntekijämme ovat avoimia ja innostuneita oppimaan uutta, sillä kesätöiden aikana vastaan tulee paljon erilaisia, yllättäviäkin kysymyksiä ja tehtäviä. Oikealla asenteella pärjää mainiosti.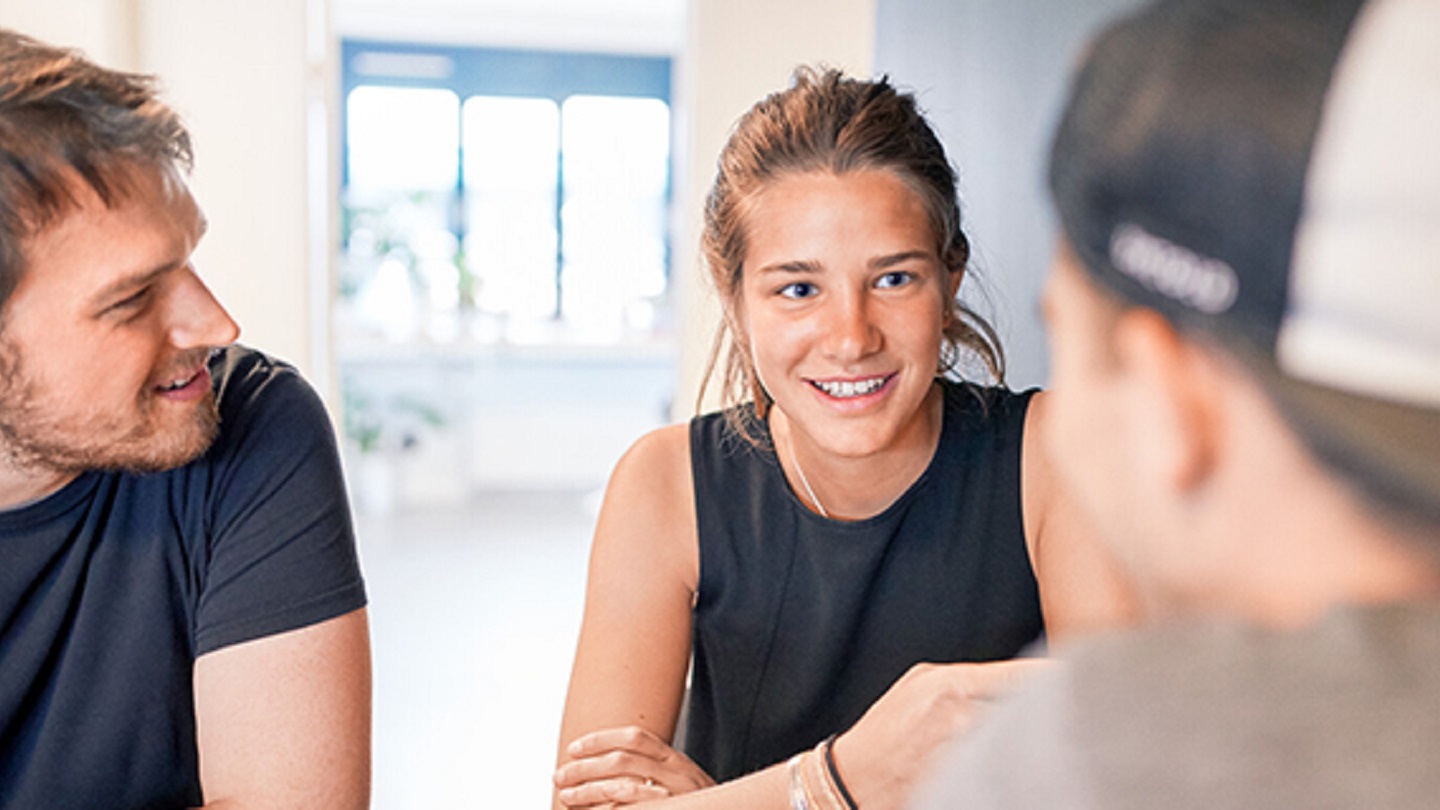 Danske Bank kesätyöpaikkana
Viime kesän kesätyöntekijämme kommentoivat kulunutta kesää ja työtään seuraavilla sanoilla: upea mahdollisuus, ihan paras porukka, mieletön kokemus, huippu kesä, oikeita töitä ja tarpeeksi haastavaa. Mielestämme tämä kuvaa todellisuutta ja sitä intoa, jonka kesätyöntekijämme aina onnistuvat luomaan. Kesätyöntekijöiden porukka on usein innostunutta ja motivoitunutta, joka näkyy niin tekemisessä kuin yhteishengessä. Järjestämme kesätyöntekijöillemme mahdollisuuksia verkostoitua ja luomaan uusia kontakteja pankissa sekä muiden työntekijöiden keskuudessa. Lisäksi tarjoamme kesätyöntekijöille lounasedun.

Kesätyöntekijämme pääsevät tekemään haastaviakin töitä, ihan niitä samoja kuin vakituiset työntekijämmekin. Toivomme, että kesätyöntekijät kesän jälkeen tuntevat pankin käytännöt ja pitävät meitä varteenotettavana työnantajana tulevaisuutta ajatellen. Haluamme panostaa niin kesätyöntekijöihimme kuin olemassa olevaan henkilökuntaamme, koska tunnistamme, että se on tärkein resurssimme.

Voit lukea lisää siitä, mitä meillä pääsee tekemään ja minkälaista meillä on olla töissä tutustumalla urasivujemme uratarinoihin.

Tervetuloa!

Olemme moderni pohjoismainen pankki, jossa kannustamme hyvään yhteispeliin. Autamme asiakkaitamme tuntemaan olonsa luottavaiseksi talousasioissa ja pääsemään tavoitteisiinsa helpottamalla heidän päivittäistä pankkiasiointiaan ja tärkeitä taloudellisia päätöksiään. Meille on tärkeää, että toimimme suoraselkäisesti, niin asiakkaita kuin kollegoitamme arvostaen.

Arvomme näkyvät jokapäiväisessä tekemisessä ja asiakaslupauksemme taas ohjaa meitä eteenpäin olemaan asiakkaidemme luotetuin taloudellinen kumppani.
Kannustamme kaikkia työntekijöitämme olemaan avoimia, innostuneita kehittymään ja oppimaan uutta. Tarjoamme monia eri uramahdollisuuksia eri liiketoiminta-alueillamme. Meiltä löytyy erinomaisia esimerkkejä siitä, miten henkilöt ovat uransa aikana työskennelleet monessa eri yksikössä keräten ammattitaitoa ja osaamista monesta eri tehtävästä.

Kesätöiden aikana pääset tutustumaan pankkialaan ja siihen, miten toimimme, niin sisäisesti kuin asiakkaidemme suuntaan. Kesätyö Danske Bankilla avaa uusia ovia mahdollisuuksia työskennellä finanssialalla tai meillä tulevaisuudessa.

Kesätöiden aikana opit paljon uutta. Sen takia onkin tärkeää, että tulet meille avoimella asenteella. Haemme kesätyöntekijöitä lähinnä asiakaspalvelutehtäviin. Asiakaspalvelu on erittäin opettavaista ja monipuolista, jonka takia kesän aikana harvoin on kahta täysin samanlaista päivää. Asiakaspalvelu on osittain haastavaa ja vaatii keskittymistä ja hyviä kommunikaatiotaitoja, jonka takia on hyvä, jos olet avoin nopeille muutoksille, positiivinen ja sopeutuvainen.

Asiakaspalvelutyö on pitkälti asiakkaiden auttamista kysymyksissä liittyen päivittäisasiointiin, kuten kortteihin, nettipankkiin, sijoituksiin tai lainoihin. Koulutamme kesätyöntekijämme vastaamaan kysymyksiin ja ymmärtämään asiakkaidemme tarpeita.

Kun haet meille kesätöihin, haet yhteishaun kautta. Jaamme tehtävät valittujen kesätyöntekijöiden kesken sopivuuden, edellisten työkokemusten ja toiveiden mukaan.

Haku kesätyöhön tapahtuu urasivujemme kautta. Haemme henkilöitä kesätöihin yhden hakemuksen kautta, eli sinun ei tarvitse hakea eri tehtäviin eri ilmoituksilla. Haemme kesätyöntekijöitä ensisijaisesti asiakaspalvelutehtäviin. Mikäli sinulla kuitenkin on jokin erityinen osaamisalue, tai haluaisit kehittyä tietyllä osa-alueella, mainitse siitä hakemuksessa. Pyrimme toki aina löytämään kaikille sopivan tehtävän.

Hae työtehtävään lähettämällä meille CV ja työhakemus. Mainitse myös minä aikana olisit valmis työskentelemään.
More stories on Instagram

If you want to see how daily life is in the bank, follow us on Instagram for more stories.