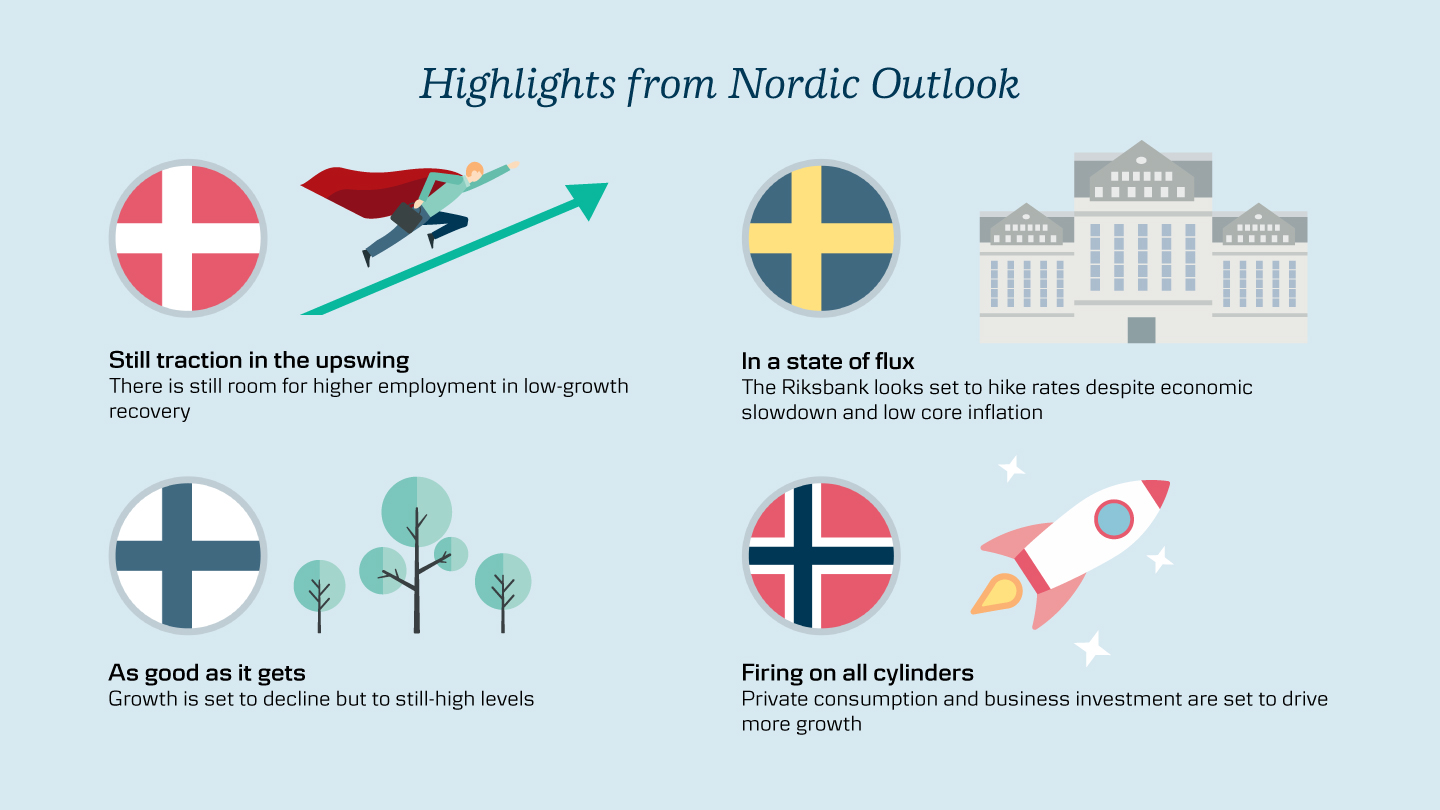 8e8f9ca3-00090258-80134871

At a glance - less help from global updrift

The Nordic countries have been benefiting from a strengthening global recovery, but that is now changing. The recovery is maturing in Europe and in the US, and we are closer to the point where growth will have to go down a notch due to the capacity constraints in the economy. We expect global growth to decline next year, although to a level that is still in recovery territory, supported by even more expansionary fiscal policy in the US and only slight monetary tightening in Europe. In addition, there are many risks to global growth, including the trade war, Brexit and political uncertainty in Italy.
The Brexit negotiations are proving to be difficult and there is a risk that the EU and the UK cannot reach an agreement. In that case, Nordic exporters would be likely to face tariffs on their UK exports and all Nordic countries have a surplus against the UK in goods (but a deficit in services). Norway has the most exports, but 80% of that is oil and gas, which face only 2.5% tariffs under WTO rules. In contrast, Denmark's substantial food exports could face tariffs of 15.5-35.9%. However, the total value of agricultural exports to the UK is only 0.46% of Danish GDP. The UK is not as important as it once was to the Nordics and we do not expect a major economic impact.
The Nordics are different
This will be a common backdrop for all four Nordic countries but we expect it to play out differently for each. Danish exports have performed poorly during the best period of growth in Europe and has some catching up to do, in our view. Sweden is already facing domestic pressure, especially in housing investment, and we expect a slowdown in growth. Also, Finland will slow but from a very high level and robust domestic demand growth is likely to support a continued strong recovery. In Norway's case, we expect higher oil investment to support the economy.
We are moving closer to the point where increasing interest rates will start to dampen growth. Norway has already seen its first rate hike in seven years and
Sweden is likely to follow later this year, although this could prove premature. The euro area, and hence Finland and Denmark, is 14 months away from a rate hike as we see it, but we do expect it to come eventually.
That is one reason why we might see more of a slowdown in 2020, beyond the horizon of this publication. Higher interest rates create risks to the housing market in those places where prices have increased the most and the economy is more driven by household borrowing. Sweden is vulnerable to this risk. We have already seen a clear drop in house prices and more could come. The Norwegian housing market is looking healthy again after the setback last year, but with high valuations and rather high credit growth, it too could face headwinds in the longer run. Although the housing market in general looks very sound, local areas in Denmark and, to some extent, Finland could also be at risk once interest rates increase in earnest.